This research guide provides a basic framework for researching federal tax law. The guide highlights the major tax sources and offers tips for starting your research.

The scope of this guide is "federal taxation" and does not cover international/foreign tax research, nor does it cover state and local tax law research. The appropriate starting place for your tax research depends on the nature of the the problem and what facts you have to work with.
Suggestion: Browse the tax research guides to save time and to become familar with the primary and secondary sources.

CONTACT:
Carol Furnish
furnish@nku.edu
859-572-5396

Federal Tax Research, 9th ed.
Call Number: Open Reserve - KF241.T38 R5
ISBN: 1609304748
Publication Date: 2014-07-06
Federal Tax Research, 2nd ed.
Call Number: ON ORDER WILL BE PLACED IN OPEN RESERVE
ISBN: 1594608571
Publication Date: 2011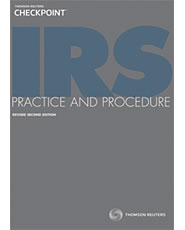 IRS Practice & Procedure, 2nd ed.
Call Number: Open Reserve - KF 6300.S265
ISBN: 9780791396926
Publication Date: Updated by cumulative supplements
Legal Authorities in U.S. Federal Tax Matters - Research & Interpretation
Call Number: Looseleafs - JH2381.T391
Specialized Legal Research
Call Number: Reference Desk -KF 240.S64
ISBN: 0735552789
Publication Date: Looseleaf updated regularly
Chapter 3, Federal Income Taxation by Mary A. Hotchkiss
U.S. Master Tax Guide
Call Number: ON ORDER WILL BE PLACED IN OPEN RESERVE
Publication Date: Annual Publication